It all started when I moved away from home. As a parting gift my brother gave me his Wicket Ewok action figure that I've been eyeing my whole life but was never allowed to touch when I was younger. At this point in time – a young adult – I completely forgot all about little Wicket and was so excited to finally call him my own… but technically was "too old" to be this enthusiastic about a toy; so I kept him in my guitar case which came with me on the big move.
Wicket became my gig buddy and would be by my side at every musical performance. He really helped take the edge off and calmed my nerves on stage, as he made me not take things so seriously and reminded me of home. It was so perfect that my roommate and bandmate Katie also loved Ewoks so instead of making fun of me she shared my excitement. For years things were great… until one day HE WAS GONE! He just disappeared, as if he had enough of our antics, and just packed his bags and moved on with his own life. Katie and I looked EVERYWHERE for him to no avail. 🙁 To this day we still joke around and say that he is somewhere in Doogies; a dive bar in Guelph that ALWAYS smelt like urine but was ALWAYS a great time with great music at obscene hours in the night… well I guess early morning. Gigging wasn't the same without Wicket. To replace him, I had a tiny Yoda LEGO man but it wasn't the same. There was a constant empty feeling… until it was filled by a new muse.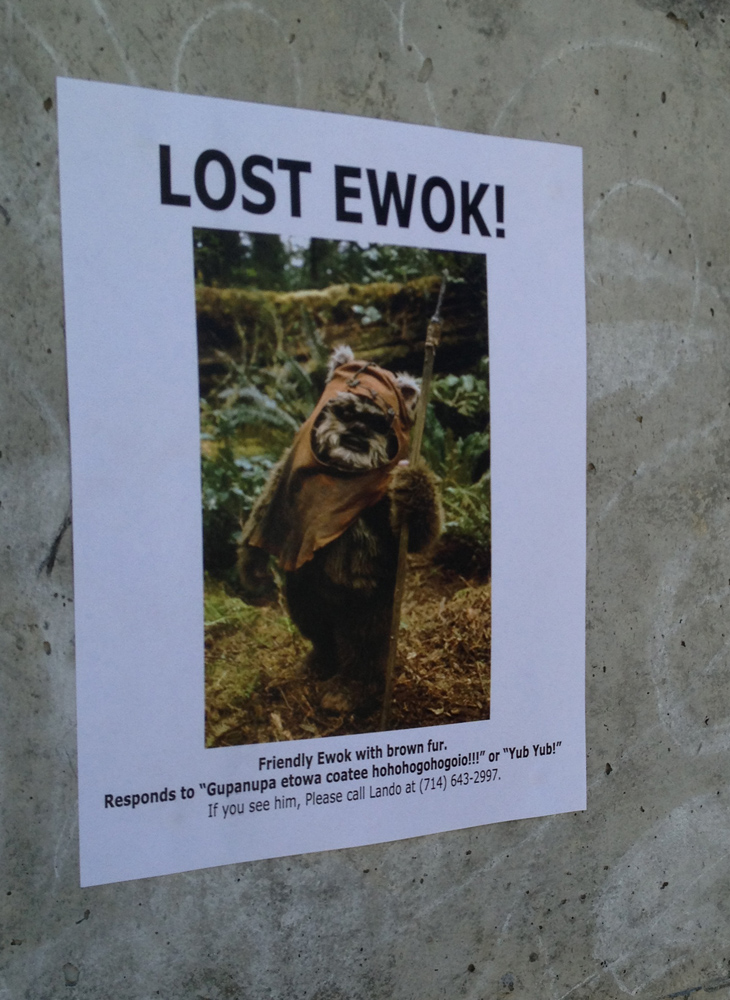 One day when I was working bussing tables at Montana's my life was forever changed when I found a Spiderman action figure left behind in a booth I was cleaning. I instantly knew he was "the one". Since no one came crying back to the restaurant to look for him; I claimed him and would keep him peeking out of my back pocket as I bussed tables -since kids eating nearby would get a kick out of it and it would make my work shifts more entertaining and go by faster. Spiderman quickly became my new gig buddy, and kept me company during my now regular solo gigs as Katie and I sadly had to part ways after graduating as our work and lives caused us to live in different cities. Spiderman and I have been together for at least 5 years now and are still going strong. He pretty much tags along with me every time I go somewhere interesting, or attend an event or concert. One of the scariest days of my life was last summer when I was working at the Rolling Stones concert at Burl's Creek. I was keeping him in my back pocket just like the good old days, but totally forgot and started doing cartwheels in the middle of the field during a work break before the attendees arrived. It wasn't until later that I realized he was gone!! My heart was racing, but after which felt like 2 hours of searching the 124325 ft field I found him!
Over the years I have randomly accumulated friends for Spiderman; such as Batman who got to travel to Peru with Katie and her husband, the Joker who was once my friend Paige's and was gifted by her Dad, a 3D printed "Rock"topus, and a 3D printed Pikachu (which was gifted to me at a gig where I was dressed as Spiderman) and a LEGO DJ Marshmallow. Although Spiderman is now quarantined and must stay put in his "friendly neighbourhood", his adventures will continue… they have to! Wicket is still out there somewhere, waiting for his rescue…
To see all of Spidey's musical adventures go to: https://www.instagram.com/stories/highlights/17862681760434619/